Hall Of Spine In Dardenne Prairie MO
Welcome to the Hall of Spine!
In here you will find just a smattering of the cases we have completed over the past 20 years. Hall of Spine is our love letter to what's possible with great chiropractic care and great patient relationships.
You do not have to live with bad posture and its debilitating effects and lifestyle disruption. Even in this post-pandemic world of horrible postures, neck humps, and terrible ergonomics, there is hope.
We plan to update this pretty regularly and once we hit maximum capacity for the site we will begin alternating cases.
All of these pictures are real. There is no CGI or any misrepresentation. The only changes we make are to the color saturation to allow ease of identification. Each of these patients has reviewed their Hall of Spine submission and has final approval.
Have a look around! Contact us today with any questions.
- The Staff & Doctors of Midwest Family Wellness
---
J. was a very interesting case. She had pain in her low back and neck that radiated around her arms and legs. We quickly resolved the spinal restrictions to her head and neck and are working to restore proper biomechanics and posture. Removing the scar tissue at the base of her neck is really helping her range of motion and daily activities.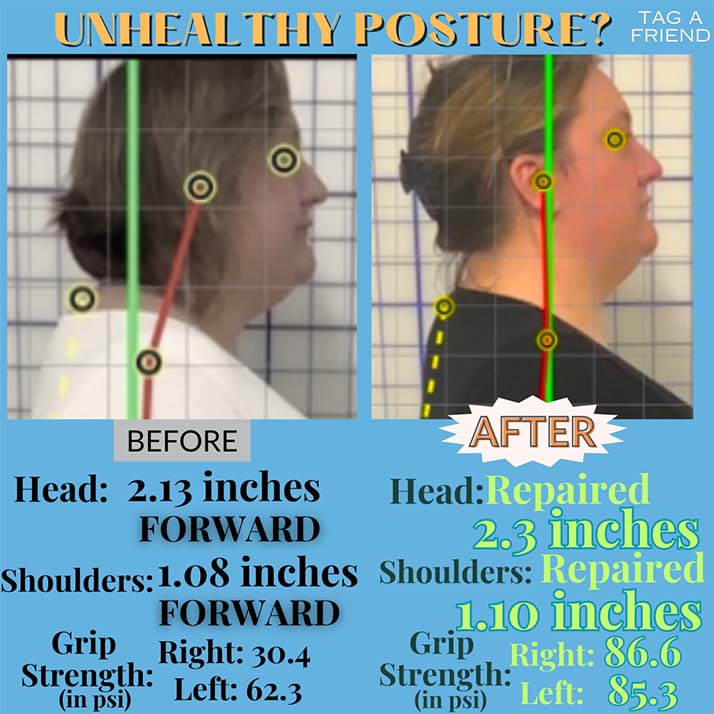 ---
K. is a wonderful human being who presented to us with back and neck pain that was interfering with caring for her grandkids. She was also deeply concerned about her posture changes and 'felt like I was just getting weaker.' Now she is much stronger and her grip strength is approaching that of a 30 year old. Additionally she is 'hump-less' now and loves it!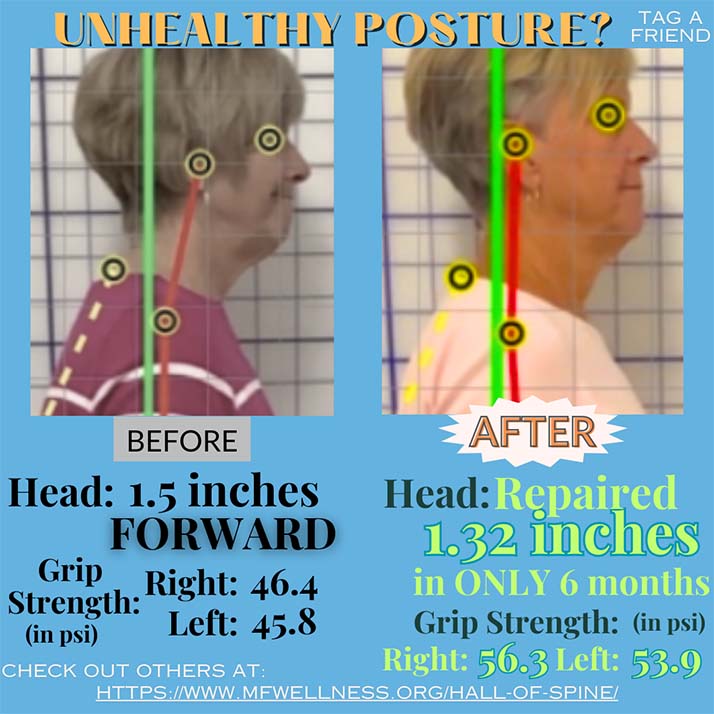 ---
R. felt like he was 'just getting weaker and it hurt to hold my head up.' A former heavy lifter he was deeply concerned that he was unable to continue to exercise at a high level. We quickly got his spine corrected and the changes to his posture reduced his active head weight by over 10 pounds! We also restored his posture by moving his head back more than an inch!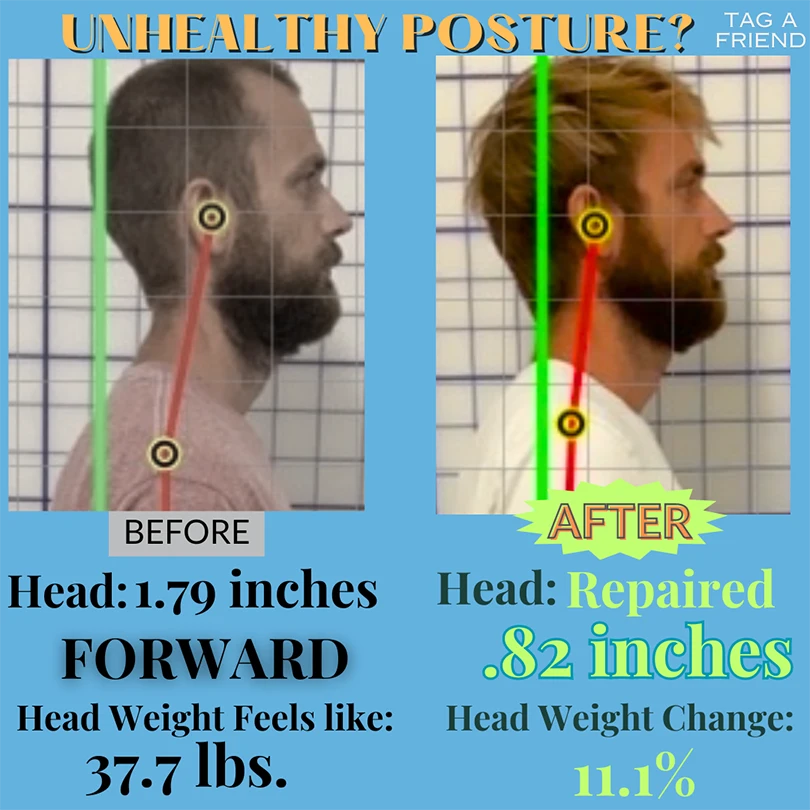 ---
L. reported that he was 'feeling weak and wobbly' and it was interfering with his independent lifestyle. We immediately set out to help and while restoring his posture took his grip up an incredible 56 pounds of pressure per square inch!! He 'stands up straighter and feels stronger than ever.'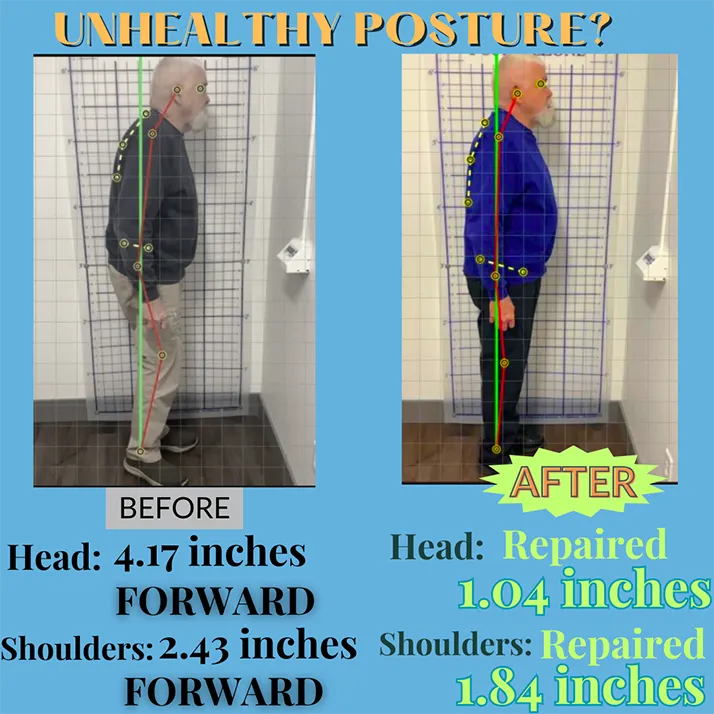 ---
D. had pain for 23 years before he showed up on our doorstep. We were able to resolve his pain in just a few visits and spent the rest of his treatment plan bulletproofing his spine and empowering him to develop control over his posture. Now he fells trees pain free and 'feels like I'm standing 2 inches taller.'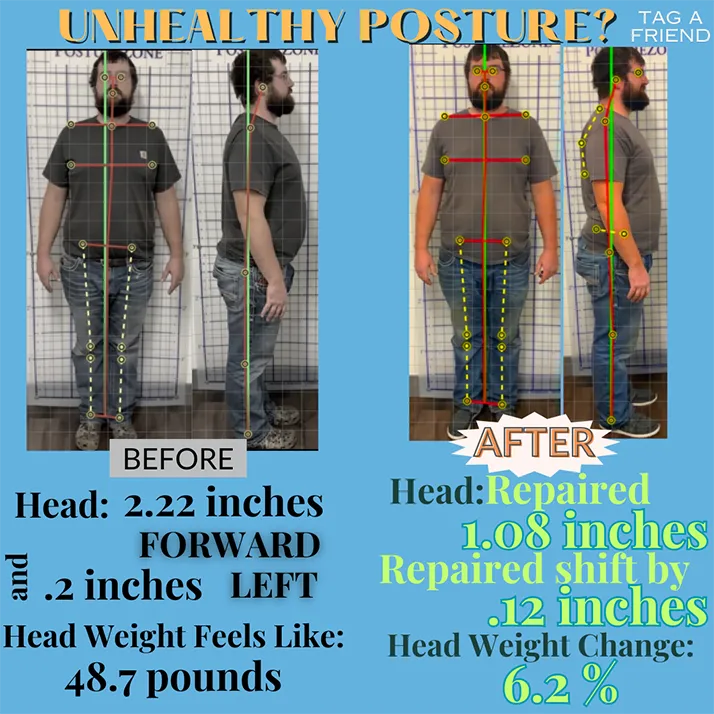 ---
B. has had a career in the trades and has the spine to show for it. With spinal correction and active rehabilitation we have managed to move both his head and his shoulders back over 1 and a half inches! The result is a substantial decrease in 'old man posture' and a young mans range of motion.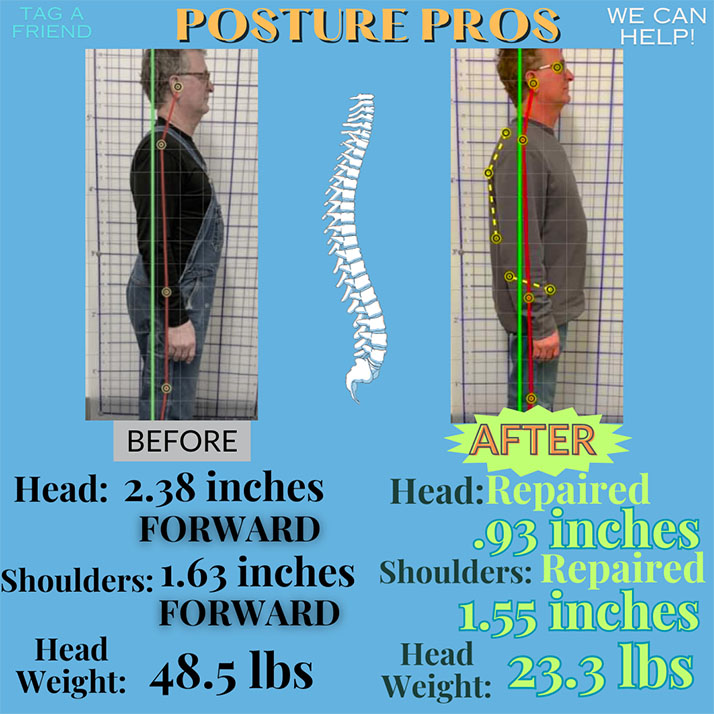 ---
A. is one of our favorite cases. A wonderful human being with significant postural changes and a whole range of associated symptoms. To date we have moved her head back almost 2 inches and eliminated much of the scar tissue at her neck. The result is a decrease in her e ective head weight of almost 60 pounds and a wonderful posture!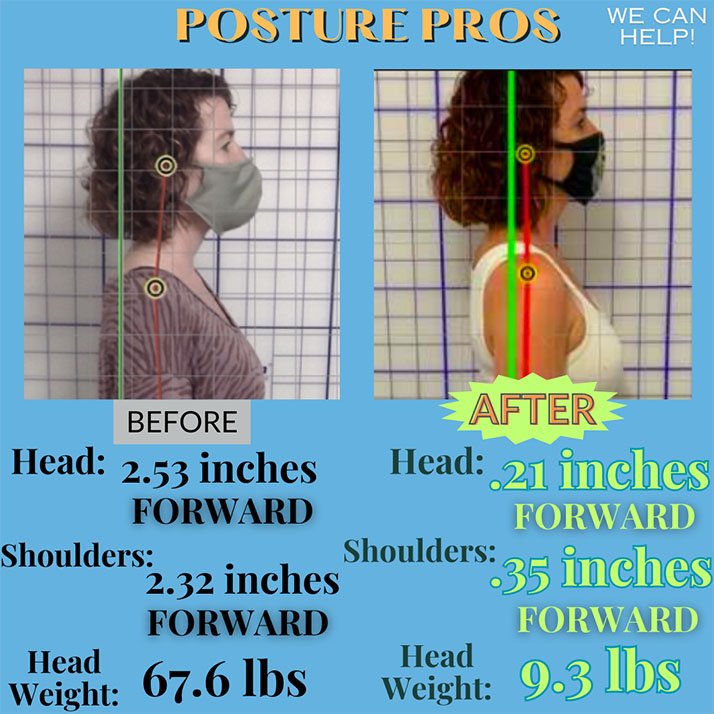 OFFICE HOURS
---
Monday
9:00am - 12:00pm
2:00pm - 6:00pm
---
Tuesday
2:00pm - 6:00pm
---
Wednesday
9:00am - 12:00pm
2:00pm - 6:00pm
---
Thursday
9:00am - 12:00pm
2:00pm - 6:00pm
---
Friday
Closed
---
Saturday
By Appointment