Don't Be Afraid To Take Whisks
Don't be afraid to take whisks

It is my turn to write this week's blog article. I must admit I struggled a bit trying to find a topic to blog about. I felt as if I would not be able to match my co-workers' witty expertise in all things health and wellness. So I racked my brain for something, anything that I could contribute. What is it that I know a bit about? Momm-ing…. I know a thing or four about being a mom to four really cool, sometimes insane tiny humans. I also know a lot about feeding my little non-stop eating machines.
We would bake in bulk all the time before they started school. It was a great way to spend time together, show them how to be organized, follow directions, use math in everyday life and how to work together. Well…. how to work kinda near each other without someone crying over who got to crack the eggs. I definitely do not bake as much as I used to. Out of sight, out of my mouth. Chocolate chip cookies (mine and my kid's favorite) are too easy to reach for when we should be reaching for an apple or something a little healthier. I got to thinking. Is there a way to preserve the integrity of this sacred cookie while making it a tiny bit healthier without it tasting like I sprinkled chocolate chips on particle board? Let the baking experiment begin and who better to taste test but my all too honest, no feelings spared pint-sized critics. My four lovely children.
All I did was sub out a few ingredients that might give the cookies a bit more nutrients. That being said, there are a ton of recipes out there that do a better job of being "healthier"
Also due to COVID-19 and recent run on basic grocery items. The stores were out of all-purpose flour and stick butter. So I guess it was meant to be I would not be using any of these items in our recipes.
Recipe # 1 We are calling "No Butter" was harmed in the making of this cookie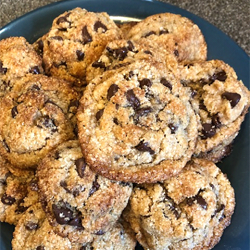 The recipe received 3 out of 4 thumbs up, Kaylin (my 8-year-old) said she didn't really like them but would eat it if there was no other cookie option available. I was surprised by how much my kids really liked these cookies. They were extremely soft yet crumbly and the brown sugar and coconut oil made them brown up on the edges big time. These were personally not my favorite.
INGREDIENTS
2 cups almond flour
1 teaspoon baking powder
¾ teaspoon baking soda
½ teaspoon salt
1 ¼ cups chocolate chips
½ cup packed brown sugar
½ melted coconut oil
¼ cup water
Recipe # 2 We are calling "Guacamole Cookies"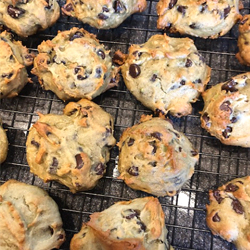 I really did not put guacamole in these cookies, just avocados but the girls kept telling the boys that I had put guacamole in them. Silly girls. The avocado was the "oil or butter" in this recipe. I opted for brown sugar and honey to give them sweetness. These cookies received 4 thumbs up and turned out really good. The cookies had a cake-like texture and were super soft.
They also had a tint of green that I did not mind at all because these cookies were excellent.
Ingredients
3/4 cups brown sugar
½ cup on honey
1 cup mashed avocado
1 egg
1 tablespoon vanilla extract
2 1/4 cups wheat flour (your choice of flour is just fine)
1 tablespoon baking soda
1 teaspoon salt
1 bag chocolate chips (or half a bag cuz that is a lot of chocolate)
INSTRUCTIONS
Not very detailed……..you have made cookies before right?
Preheat oven 350. Combine dry ingredients in one bowl. Combine wet ingredients in another bowl. Mix dry ingredients slowly into wet ingredients. Chill your dough for 20 minutes. Then scoop dough onto cookie sheets however you like…. cookie scoop, rounded spoon fulls….. bake until the edges are golden brown. About 7-10 minutes.
OFFICE HOURS
---
Monday
9:00am - 12:00pm
2:00pm - 6:00pm
---
Tuesday
2:00pm - 6:00pm
---
Wednesday
9:00am - 12:00pm
2:00pm - 6:00pm
---
Thursday
9:00am - 12:00pm
2:00pm - 6:00pm
---
Friday
Closed
---
Saturday
By Appointment