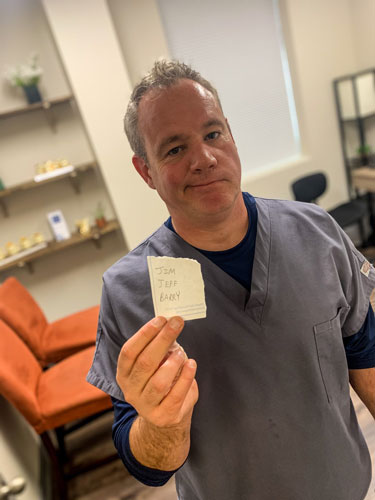 If you do not know who they are, it's ok.  They got beat on the tennis court by one of our patients.  I told him to kick butt and take names.  He did, and he did so very thoroughly, then collected the opponents names and brought the names in on a piece of paper.  
That's the kind of stuff I love about good chiropractic care.  You free your patients up to pursue new health goals, whether those goals are trouncing people on the court or nailing a new PR.  It's such a rewarding profession and such an awesome feeling to be part of someone's journey.
If your spine, or your overall health is holding you back I want to invite you to come in and talk to us.  For some people, just sitting and talking is enough to kick start some serious changes.  For others, it takes a bit more than that but we never know until we start.
Jim, Jeff and Barry were once obstacles to our patient's tennis progression, and just like the problems we helped him overcome, they were eliminated.  Don't hang on to JJBs in your life.  Let us see if we can help you.
OFFICE HOURS
---
Monday
9:00am - 12:00pm
2:00pm - 6:00pm
---
Tuesday
2:00pm - 6:00pm
---
Wednesday
9:00am - 12:00pm
2:00pm - 6:00pm
---
Thursday
9:00am - 12:00pm
2:00pm - 6:00pm
---
Friday
Closed
---
Saturday
By Appointment