How to Perfectly Roast Pumpkin Seeds
How To Perfectly Roast Pumpkin Seeds

Are you interested in roasting the perfect pumpkin seed? Don't know where to get started? Look no further the team at Midwest Family Chiropractic is willing to share the recipe.
---
HOW TO PERFECTLY ROAST PUMPKIN SEEDS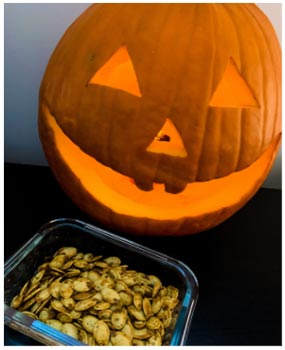 Cook Time: 40 mins | Total Time: 40 mins
INGREDIENTS
Seeds from a pumpkin (4-6 cups)
Water
Sea salt
Olive oil
Any other seasonings/herbs you will want to add
DIRECTIONS
Clean pumpkin seeds and throw out all pumpkin residue.
Soak pumpkin seeds covered in water and swish around until all loose particles float and scoop them off and discard.
Just when you think you've rinsed them enough, place them on a baking sheet and sort through them to remove any more pumpkin pieces or residue.
This takes time, but the cleaner the pumpkin seeds are the nicer they will look, and the crispier they will bake up.
Preheat the oven to 325 degrees. (you will bake them after you boil them)
Place pumpkin seeds into a saucepan and cover with water and a teaspoon salt and bring to a boil.
Reduce heat and cook at a medium-low temperature for 10 minutes.
Strain seeds and then place seeds in a bowl with a teaspoon or two of olive oil to lightly coat the seeds and sprinkle them with salt.
Add the additional seasonings you will want now (ex: garlic powder, buffalo, and herbs).
Pour them out onto a baking sheet(s) in a thin layer. Try not to overcrowd them as they bake roast better with room on the sheet.
Bake for 25-30 minutes tossing them every 10 minutes and being careful not to brown them.
Test the pumpkin seeds to check for doneness. They should be dry, crisp and the inside seed should not be brown, it should be a green color.
OFFICE HOURS
---
Monday
9:00am - 12:00pm
2:00pm - 6:00pm
---
Tuesday
2:00pm - 6:00pm
---
Wednesday
9:00am - 12:00pm
2:00pm - 6:00pm
---
Thursday
9:00am - 12:00pm
2:00pm - 6:00pm
---
Friday
Closed
---
Saturday
By Appointment